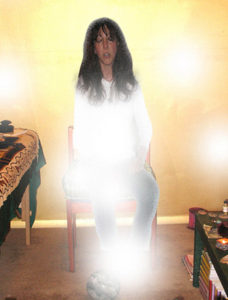 Sessions Available by Phone, Skype, Zoom, Facetime, etc.
Sheryl will go into trance allowing spirit to speak through her offering you guidance, love and healing during your personal and private reading.
Once date and time are selected please make your payment to confirm, thank you.  Looking so forward in working with you in this way!
​
Classes
It has been a joy for me to lead Channeling Classes in the Midwest area for the past 15 years.
What was once considered esoteric is now considered mainstream
"The Anatomy of Authentic Voice Channeling"
This is a Calling, rather than a Career. A stirring deep within your Soul that you are being asked to answer.
A Calling is a journey into the Mystery
You are invited to join International Channel/Healer
 Sheryl Noday & Beings of Light, "Siria Family"
 "Come explore with Us. Grow with Us.  Come LOVE with Us….. Siria Family"
You are invited to be in a class with others of like mind and like heart to collaborate, to unite, to create a ethereal team, to be in your tribe.
 Come one, Come all and unleash yourself in a Powerful Channeling Class.
 You are invited to learn a new way of thinking, the balance of the human brain.  If you are wanting to grow and receive unconditional love from the energies of Higher Self and our Unseen Friends THIS IS THE CLASS FOR YOU~
  Once  unconditional LOVE Spirit has for you IS FELT, life oftentimes life never looks or feels the same.New choices are made, expansions are felt and love has increased!!!!!!!Channeling has become the new norm. Connection is essential. Spiritual Expression is a must. Channeling,  a very old communication still remains both mysterious and misunderstood. Join us to learn about the Anatomy of Authentic Channeling and its  core foundation: LOVE. This vibration sets the tone to embrace our Divine Birthright, connecting to Soul and Higher Self. Learn how we evolve, how our brains are involved and change as a result. We learn that we can co create with Divine Beings in the universe.
 You are met with absolute love. These wise, humorous, ancient Beings offer awareness, empowerment, assistance in healing to create fulfillment in life beyond our wildest dreams and imaginations. It all starts from within as your outer reality is a reflection of the inner you.
Automatic writing, automatic drawing and voice channeling are explored in class. Coaching and guidance is provided each and every step of the way. Weekly questions explored, answered and encouraged by both Siria Family and Sharyl.
 Each and every series of classes is unique and different. No two are ever the same. We often have  spiritual beings such as "Lyra", "Dolphins", ET's, "Ascended Masters", Chief White Feather who come to offer their wisdom and knowledge.
You are invited to meet your own set of Spirit Counselors, Guides and Gatekeeper that were established prior to this carnation.
You are invited to learn the art of self honesty, to tell yourself the truth about you, why? So you can experience LOVE*
You are invited to cease the idea of self compromise and to embrace your eternal essence*
We shall cover discernment energies*
How to create life from the inside out, being a creator in life….. practical applications!
How to Process?  The meaning of Inner Transformation
The role of the Energy Healer and Channel today….. Responsibility.
A fun, glorious journey in the re meeting, the renew of Spiritual LOVE!
In The Anatomy of Authentic Voice Channeling and Spiritual Growth in Channeling Class, we focus on the interaction between the human realms and the spiritual realms. How to make contact with your spirit guide and create a relationship to find your personal expression and gifts. How to alter your state of consciousness to spaces of deep meditation and trance. Learn to receive the unconditional love of spirit and our higher selves. In this class environment safety and love set the tone for exploring and discovering more of ourselves through self examination and reflection.
Learn how to be a authentic channel while maintaining a rich personal life, establishing healthy boundaries. Discussions on the shadow self as it is undeniable in personal growth, who it is and how it works. Discussions and exercises with inner child, how to hear the voice, recognize it and heal. Exploration in past lives, future lives and parallel realities.
Learning how to see ourselves with new eyes, growth can be fun and exciting as we consciously grow with Spirit in a channeling format.
Our classes are filled with JOY and LAUGHTER!
Class is the study of consciousness through the idea of channeling. Therefore, meeting ones spirit guides and higher self gives way to the path of higher consciousness. We gather for 4 consecutive weeks exploring such concepts. Every week is different and every 4 week series is unique in itself. Spirit guides us according to the group energy and the group consciousness at hand. Spirit has said that this form of communication with something other than one's self will become wildly accepted in our life time. Channeling is something that is as old as the Earth, yet it is still so misunderstood. What is the cause of this ongoing confusion? The cause is none other than the human ego system. In this class we look at our ego through the eyes of wonderment and understanding. We will examine what has made the human ego system so strong and how it has become our survival mode. Finally, we will decide what should and could be replaced to balance ourselves to connect with a divine intelligence within the universe. This ancient form of communication connects us to our souls, our higher selves, our unseen friends, and reminds us of our divine place within the universe. Through this experience, it becomes increasingly apparent that channeling is far more than speaking with long lost relatives.
The question becomes is how much love are you willing to receive? Siria Family
The Anatomy of Authentic Voice Channeling, Consciously Growing with Spirit in a Channeling Format- meets once a week and run for a series 4 weeks 
Please email me at  for more information.
Payment plans can be arranged, please inquire
Location-  Chicago, Los Angels, Out of State and Abroad 
Testimonial: My personal experiences with Siria Family have been profound channeling experiences. These souls that come through Sheryl are extraordinary wise teachers. They have a knack for transmitting the exact information one needs to hear for one's own Soul Growth. Their teachings are clear, complete, reflective, and gentle. Yet they push one to look further and reach a bit out  of one's current comfort zone. Gently guiding one to look inward and grow a bit more.They have unmistakable connected me to powerful past- life lessons and status-quo energies and ways of being in the world  that may be helpful for me to look at clearly, examine with love, embrace the lessons with courage, and choose with courage to change a particular pattern which no longer serves my highest good. This can be both scary and a bit difficult as many of these patterns one can carry forward for Many lifetimes. But the exploration is gentle and quite guided by both wisdom and love!!! The group meditations following led by spirit are the most deep and profound meditations I have ever experienced. Which is always helpful on may levels!! I have been so grateful to find a channel who is so clear, ego-less, and channels such high level guides. It has been and continues to be such a joy to interact with both Sharyl and Siria Family. I treasure these experiences!
"Words cannot express how appreciative I am to have crossed paths with Sheryl Noday. A gifted teacher on so many levels, both her classes and private sessions have had a profound impact on my perspective, and therefore, my life. Sheryl's capacity to channel is truly inspired. I highly recommend Sheryl's work. She is a gift to our world and beyond." ~ Annie Burnside, Award-winning Author of Soul to Soul Parenting
Group Sessions: Interested in setting up a personal group with a specific topic? Yes, please email me to discuss details.
Open Forum Group Channeling~
 "Live Trance Channeling with Siria Family"
I invite you to experience a evening of channeling with Beings of Light called,
"Siria Family". This is a "gallery session" where members of the audience can ask and receive answers to questions about their lives. In this channeling session, spirit speaks through me while I am in a deep trance state of consciousness. This allows these loving beings who refer to themselves as Siria Family to come through. They are not a traditional family in a sense as we would recognize, but are a vortex of Light Energy Beings, non-physical, galactic in a sense. Siria Family works with us to encourage personal responsibility and soul growth as we dive deeper into the matrix of creating our own reality.
I have been in connection with Siria Family since the beginning of my Earth lives. This experience is very loving and embracing. I would love for others to experience unconditional love and healing in this way.
Siria Family enters our world with loud vibrational healing tones, as this is the Sirian way. This sharing of Light raises the vibration and is a Blessing. When they begin to speak, they give a message that comes from them reading the collective group energy, to be followed by questions from individual attendees. Then based on the evenings questions and sharing's, the session finishes with Siria Family weaving a unique meditation that is always original and found to be quite healing and shifting of energies.
I have have been channeling Siria Family for the nearly 3 decades throughout the United States.
I hope to see you for a evening of growth, love and laughter as community gathers celebrating with those of like heart and like mind.
"Experience a wonderful spiritual healing with Sheryl and Siria Family! If there is anything you want to change and improve in your life–any "stuck" places–this is the event that can do it for you energetically."– Joan Forest Mage, Executive Director of Life Force Arts Center.
Next Steps...
Listen to a live channeling
8 Days to Global Oneness*
Sheryl Channels Siria Family.