Whats Happening Now
IT'S JULY AREADY!!!!!
I am looking so forward in being interviewed by Lauren Galey for her show Quantum Conversations on July 23.
Stay tuned, I will share the link with you
The expo in Honolulu was so exciting! I can hardly wait to go back. During these shows, its tradition for me to offer a open forum channeling for attendees. I channel Siria Family and others to be of service to YOU.  The format is open meaning there is ample room for questions/answers to be followed by energy facilitation and guided meditation. People often share with me they feel such love when Siria Family is in the room, Ah ha moments are plentiful and love abounds. People often connect to their own Guides and Higher Self. At my booth I offer private sessions and Soul and Spirit Portraits. To learn more of this please see Soul and Spirit Portraits page under Visionary Art tab, thank you!
"Spirit has touched my life in ways there are no words in the English language to explain. To be able to offer to you the same richness I have experienced is the reason,
"I do what I do".

Please enjoy this recent interview hosted by Lauren Galey on her show, "Quantum Conversations". We chatted about my life as a channel/healer and how I got started.  In the show I also channeled Siria Family who guided the audience on a beautiful Higher Self meditation.

---
"I have dedicated my life in collaboration with

Spirit

, together as Healing Allies  and making art about those ideas".
If we are going to see through a filter why not the filter of JOY
What pulls us out of suffering and into joy, love is what I am passionate about. I believe joy and happiness are the pillars we walk through, sustaining us in love. In this way, these mystical, yet grounding experiences are my muses, my guiding force". 
Art The Silent Healer™ was founded by Sheryl Ann Noday in Los Angeles, 1990 with a focus on spiritual communications thus making art from those narratives. The idea being to transport viewers into other worlds where mystical, metaphysical and healing ideas are opulent desiring to create a platform of wonder. Cultivating her gifts at a young age, Sheryl often say's, "She was Born to Channel", having her first channeling experience, giving voice to her Spirit Guides at 15 years old. Together in  partnership we are dedicated to the magic of Art the Silent Healer. 
Testimonials~ "Sitting in the audience, when Siria Family first came through Sheryl I immediately noticed what I was feeling. As much as I wanted to hang on to old beliefs, I felt something melt then open up and soften. I admit I was initially shocked at how any resistance to believe quickly faded and I was transported to a different space- one of feeling unconditionally loved, held and perfectly safe. Siria family was so witty, so eloquent and had a way of weaving stories and concepts that really crystallized my understanding of why certain events were happening in my life. They were able to accurately elaborate on information that I didn't mention about events at work that surprised me. I have been following those nuggets of insight and feel a new direction in my vocation beginning to bloom. It was the push I needed to begin moving out of my work rut and possibly the creation of a new job after being in the same one for fifteen years".
"Thank you very much for your reading and artwork, very helpful".
Instagram~ sheryl_art_the_silent_healer
channelhealersheryl
Facebook~
Sheryl Ann Noday, Art The Silent Healer
Sheryl & Siria Channeling Forum
Channel Healer Sheryl -YouTube 
Skype~ ChannelHealerSheryl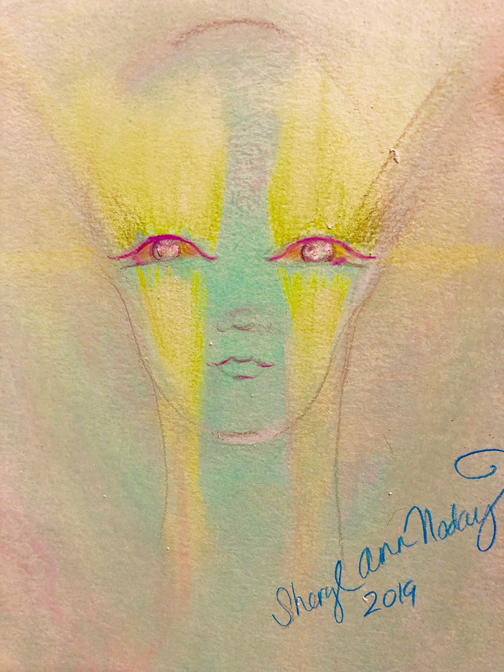 Whats New On the Easel
Soul & Spirit Portrait from the recent show in Honolulu,  "Spirit Guide"
"When I am partnering with Spirit in the co creating of making Soul & Spirit Portraits, my goal is to follow the feelings, to be intimate with the flow until the end. It is then I know the art is complete".